Retail Site Selection
When it comes to selecting sites for new construction, relocation, or acquisition, there can be an overwhelming number of metrics to consider. Different industries have different priorities when it comes to demographic and geographic requirements. The process of amassing the entire body of relevant data and analyzing it can be daunting. Ploughman is able to harness both our strength in geographic information systems and expertise in data collection and analysis to assist in this decision making process by providing comprehensive studies of a market area or region.
One example of Ploughman's work in this area involved assisting a restaurant chain franchisee that was interested in new locations. This chain offers delivery service, and site selection for individual restaurants is heavily influenced by factors that influence delivery. Desirable locations optimize proximity to businesses with many employees (providing daytime customers), as well as proximity to residential areas (providing evening customers). Travel on streets and location relative to other establishments (e.g. a college campus or competing restaurant) are crucial. Population, employment, and income data at fine scales, as well as business locations and their employee counts, road network and traffic data all come into play. The issue becomes not only how to gather and interpret these datasets individually, but how to combine them in a way that provides new insights.
Ploughman brings demographic data from the US Census Bureau to bear on problems for our clients. Not only do we allow looking at a block map of population density in the context of site selection, but we can incorporate delivery range and accommodate irregularly sized census blocks in the analysis.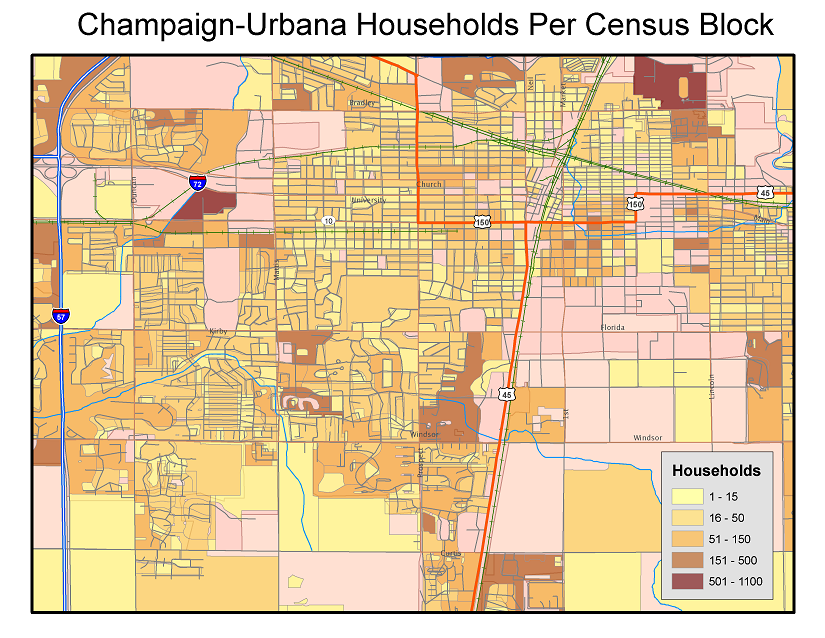 Rather than doing a coarse analysis on these census blocks with "as-the-crow-flies" delivery distances, Ploughman generated zones around each location indicating how far one could drive from that location in a certain amount of time following speed limits. Then, from any given point on the map, we calculated the total value of each metric within that same drive time and overlaid these zones.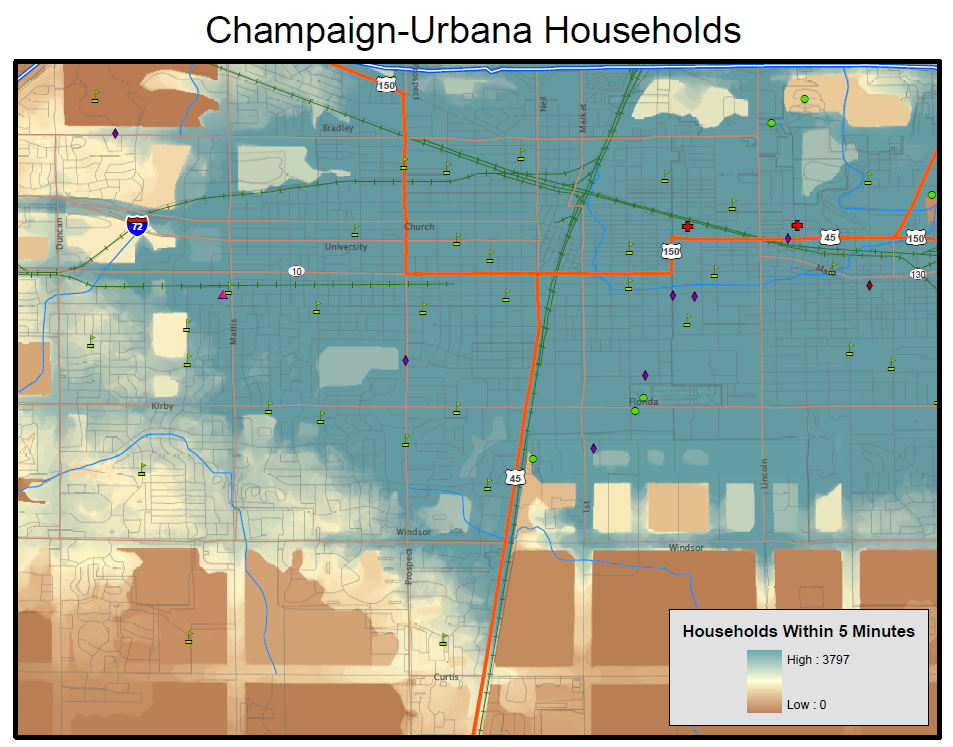 Heat maps indicating the residents, employees, average income, etc. within that drive time for the entire study area were generated. Rather than restricting the analysis to predetermined locations, the entire area was evaluated comprehensively. This approach highlights candidate hotspots that may not currently be under consideration. Taking into account the priorities of the client, these metrics can also be fed into an algorithm that will assign a score for each point on the map according to how closely the entire body of data fits the profile.
This approach gives clients an information advantage over competitors and in their dealings with those holding out locations for lease.

Ploughman Analytics, Inc.
3309 Cypress Creek Road
Champaign, IL 61822
(217) 693-4000